Chapels & Deep Hope 2020-21
Chapels & Deep Hope 2020-21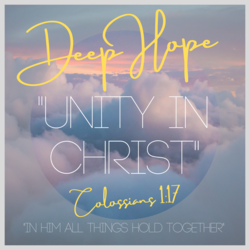 Our Deep Hope (Theme) for the 2020-21 school year is a message of "Unity in Christ" where we will have our students explore their identity in Christ, what unites us as a Christian community and how we can love and serve one another. A Bible text that anchors our theme is from Colossians 1:17 where it declares "He is before all things, and in him all things hold together." 
In times that seem to be full of division around public health measures, race, climate, and sadly theology/denomination, the message of unity in Christ will hopefully resonate with our students and give opportunity for them to reflect on and practice Christian love, respect and long-suffering.
 The quote below from Francis Shaeffer really sums up well our deep hope for the year:
It is in the midst of a difference that we have our golden opportunity. When everything is going well and we are all standing around in a nice little circle, there is not much to be seen by the world. But when we come to the place where there is a real difference, and we exhibit uncompromised principles but at the same time observable love, then there is something that the world can see, something they can use to judge that these really are Christians, and that Jesus has indeed been sent by the Father. (Complete Works, vol. 4, 201, emphasis added) 
Please join us in prayer that Christ will be glorified, that God will honour our efforts, and that our students will grow in their affections and knowledge of Christ this school year.
Opening Chapel - September 17
Thanksgiving Chapel - October 8
Reverend Oord from Grace Reformed Church shares a Thanksgiving message with our school community
Chapel - October 29 - Reformation Day
Pastor van Eyk from Trinity Reformed Church shares with us a message for Reformation Day and reminds us again what gives us "Unity in Christ".
Class Discussion centered around these questions:
In what ways does the event and ideals of the Reformation tie into our Deep Hope/School Theme of "Unity in Christ"?
Is the church in need of "reformation" today? If so, how might that look in practical ways? If not, what is the church/your church doing well?
Personal reflection: How might the principles of The Reformation (personal faith, gospel/scripture focus) impact your daily life? Is your life in need of renewal/reformation?
Chapel - November 13
Pastor Droogers from Iron Springs CRC brings a message to us on the observance of Remembrance Day and also what binds us together as God's people - the truth of His word - the Bible
Chapel - November 19
Pastor Burke from Coaldale MB Church shares a message with us on Unity in Christ and changing our affections not just our actions towards those in our church and larger community
Chapel - December 4
Pastor Burke from Coaldale MB Church shares another message on Colossians 3 and living in unity and peace as a church/school community
Chapel - February 10
Pastor Daniel Zopoula from Bridges of Hope and Miz City Church engages our school in a conversation around race and the unity we have as Christians living in community
Chapel - February 24
In recognition of Pink Shirt Day, we address the uniqueness of how we are all created by God for his glory and called to honour justice. We engaged in a message on "Justice" from the Bible Project and a song "Wonderfully Made" by Ellie Holcolmb. 
Easter Chapel 2021 - April 1
We join together to worship our risen King! Paul David Tripp shares a message of the cross and the power of the resurrection of Jesus and we enjoy a song "It was finished upon that cross" by CityAlight. We pray that you enjoy a restful and enjoyable Easter break!