Back to all posts
Posted on
Transformational teaching at the secondary level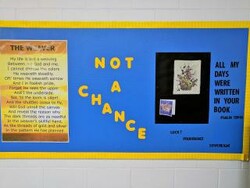 What does Christian programming look like at Immanuel Christian Schools? In a nutshell, it's Teaching for Transformation (TfT). This program leads schools to develop authentic and integral Christian learning experiences. It was developed by the Prairie Centre for Christian Education (ICS' supporting Christian school organization), and is anchored in the transformation worldview of creation, fall, redemption and restoration, with a focus on seeing and living out God's story. The pillars of TfT, implemented at both our elementary and secondary campues, are storylines, Biblical throughlines and formative learning experiences.
Two of the classroom storylines identified at ICSS this year are "Not a Chance" and "Aime ton prochain comme toi même" (love your neighbour as yourself). "Not a chance" is the storyline for grade 8 students in Anne Konynenbelt's classes. She emphasizes that in all things, God's wonderful providence is at work. She teaches the students that even when they cannot see God's hand at work that they can rest in the comfort of knowing that nothing happens truly by chance. In Brenda Nieuwenhuis' classroom, the students dig into the idea of loving their neighbour as themselves. They explore when, how and why to help their neighbour and who are their neighbours. 
Our theme for chapels is the idea that each one of our journeys may look different, but each one is a part of the larger story, God's story. ICSS reinforces this story in the classrooms and hallways where posters of creation, fall, redemption, restoration that are visible throughout the school. The theme also reminds students that they are never alone on their journey.
Another pillar of TfT is formative learning experiences (FLEx). This year, our students have participated in this form of kingdom work in a variety of ways. Our senior high CALM class visited the students of Senator Buchanan Elementary school to be "Community Builders" with another school in the district. Students visited on a number of occasions building trust and friendship with each visit. The senior high choir took a trip to New York and were "God Worshippers" as they would start a flash mob in different locations, singing praise to our wonderful God and sharing this praise with total strangers that happened to be in the area. Our Grade 10 class were "Earth Keepers" as they worked with Vern Peters from The King's University to plant limber pine trees in the Crowsnest Pass area. They learned and experienced the importance of taking care of God's creation. In the fall, the Grade 9's went potato picking in an effort to be "servant workers" as the potatoes they picked went to food banks and the soup kitchen in order to help those in need.
As the school year begins to wrap up, Grade 6 & 7 students are putting their finishing touches on their Passion Projects. These projects, which are year-long projects for the students, will be presented at a celebration on Friday, June 7 from 1:00-2:30pm in the ICSS main gym. Everyone is welcome to attend and see how our students are identifying, developing and sharing their God-given gifts.  
Written by Teacher Sean Alaric and SCESA Communications Officer Sarah Sutton