SAT Testing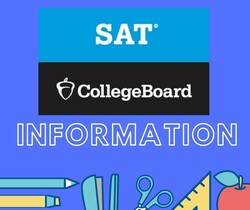 SAT Testing Site
Immanuel Christian Secondary School is a SAT testing site for the College Board. All up-to-date information on SAT Test sittings and cancellations will be found below.
***Due to Covid-19 restrictions in Alberta, testing dates will be evaluated according to current safety considerations***
Important Note: ICSS is the host facility only. Administrators of the exam are outside contractors hired by College Board. Please do not call the front office at ICSS as there will be no additional information provided from what is listed above.
______________________________________________________________________
2021-2022 Testing Dates
| | |
| --- | --- |
| Testing Date | Cancelled or Confirmed |
| August 28, 2021 | CONFIRMED |
| October 2, 2021 | CONFIRMED |
| December 4, 2021 |   |
| March 12, 2022 |   |
| May 7, 2022 |   |